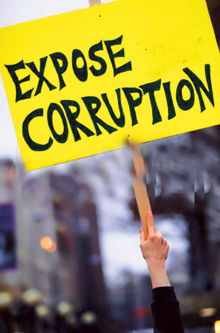 As IC said before, we are just laying some ground work here, the best parts come soon..
Corruption


1994-2003: Bridgeport, Connecticut – Former Bridgeport Mayor Joseph P. Ganim was
sentenced to
nine years in prison
for corruption on several counts, which included a relationship between his office and Professional Services Group (PSG), which was purchased by US Filter. A major part of the testimony heard was regarding two multi-million dollar sewage contracts awarded to PSG – first a five-year contract, then an extended 20-year contract – in return for $500,000 in
kickbacks
from the company through consulting fees and benefits.
1997-2003: New Orleans – Again in New Orleans, USFilter has had to deal with controversy
over contracts. This time a corruption scandal involving the bribery of a former New Orleans
Sewerage & Water Board member in order to
rig
the renewal of a contract to run the city's two
wastewater treatment plants. Katherine Maraldo, the former Board member was
convicted
of
accepting
bribes
during the mid-1990s from Professional Services Group (PSG) president
Michael Stump. Stump, who was president of the company at the time, was buying Maraldo's
support for a five-year extension of the company's contract to run two wastewater plants. At the time Maraldo was the chair of the committee that oversaw the contract. Stump was convicted in June 2003. The contracts are now held by Veolia Water North America, formerly USFilter. Both
Maraldo and Stump were given jail terms
. At the time of the crime, PSG was a unit of Vivendi's indirect US subsidiary, Aqua Alliance.
1996-2001: Houston, Texas – In May 2001, PSG, a subsidiary of Aqua Alliance, reached a plea
agreement with the US Department of Justice in which Aqua Alliance pleaded
guilty
to a charge
of
bribery
and was fined $3 million. The plea was in connection with allegations that members of the Houston City Council received illegal contributions from PSG consultants. At that time,
there was a battle over the proposed privatization of Houston's wastewater facilities, and PSG's
lobbying team was
drenching city officials with cash inducements
.
2000: Milan, Italy – The Italian newspaper La Republica revealed in early 2000 that a senior
manager at Vivendi planned to bribe Milan politicians in both the majority and opposition parties on Milan city council in order to win the tender for a Lira 200 billion (~$100 million US) wastewater treatment plant.
Evidence
includes a floppy disk with a letter to Vivendi's partners from Vivendi executive Alain Metz, which contained information on the deal and implicated Vivendi executive Massimo De Carolis. Maetz wrote how he has excellent contacts with the Polo delle Liberta, the right wing majority coalition (whose leader was media tycoon Silvio Berlusconi, and who is now Italy's Prime Minister) and planned to pay Lira 4 billion (~$2 million US) in bribes to Italian politicians. As well, Maetz wrote how Coge, a company 40% owned by Berlusconi's brother, should become a partner with Vivendi in this bid, though "as a matter of security", his brother should sell his stake in Coge before the tender.
1997: France – In 1997 Jean-Michel Boucheron, the former mayor of Angouleme was convicted
and sentenced to two years in prison for taking bribes from companies bidding for public tenders. This included $55,000 for a fictitious job by General des Eaux in exchange for giving the Vivendi subsidiary a water distribution contract in Angouleme.
1989-1996: France – The construction units of Bouygues, Suez and Vivendi have all been the
subject of a major judicial investigation over allegations that they participated in a corrupt cartel
where they shared contracts for the building of schools in Paris to the exclusion of other
bidders.